As a teenager Sifu Mark Stas started his martial arts training alone in his room, before joining his first 'official' course in 1984 with Karate Shotokan which he practised many years. Because he loved kicking techniques so much, he was suggested to practise Taekwondo and switched to this Korean martial art where competed successfully during his youth.
He got an introduction in Bruce Lee's Jun Fan, before discovering after a few months a Chinese martial art, which changed his life, thanks to the great fighter and instructor Sifu Salih Avci in Aachen (Germany). Convinced of the efficiency, he soon decided to live and study many years in that country with the best European Wing Tsun schools.
Training and teaching in the ML-MAF, his dedication and passion led him to create his Wing Flow System after more than 34 years of martial arts practice.
His performance in Italy at one of the most important events, the First Festival dell Budo in Torino left not only the organisers in awe: his way of moving and his explosive movements took their breath away.
His video's were discovered in 2016 and shared numerous times on social medias all over the world. He was invited in different countries over the world who were interested in his teachings.
He was interviewed in specialised magazines and online websites such as « Wing Chun Illustrated », « Warrior of Art », « Martial Science », « the Wing Chun Podcast », « Lifestyle of a Warrior » or « Ronin-Martial Production ».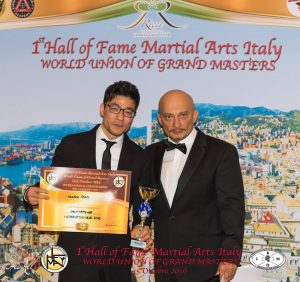 Hall of Fame – 2016: « Master Of Self Defense »
Hall of Fame – 2018: « Celebrity Award 2018 »
Hall of Fame – 2019: « Capo di Leuca », « For the excellent performance in the martial arts movies with your unique method and has managed to be appreciated at world level »
Nominated as one of the 300 best martial artist in the world, 2019.
Appeared in the « Who is Who of Martial Arts ».
During his seminar in France, he left a deep impression with the participating instructors of the special forces in Lyon.
He received at the Martial Hero Award event with his Wing Flow System the most beautiful congratulation a martial artist could get from Peter Chin, who was the training partner of Bruce Lee and met other famous international stars such as GM Samuel Kwok; Bram Frank recognised as « Father of Combat with the Israeli Knife »; Simon Kook famous for his fight in Ip Man 3; and other dedicated instructors.
Mark Stas and movies